1
Best Value
The Gym People Lightweight Athletic Joggers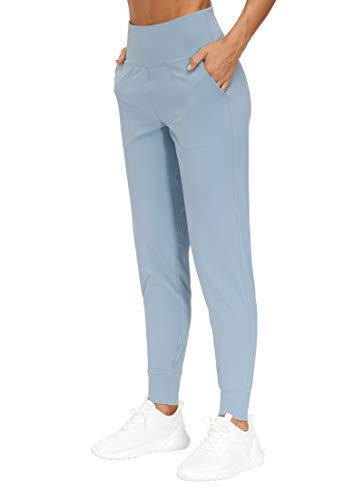 1
Best Value
The Gym People Lightweight Athletic Joggers
Now 14% Off
Pros
Sturdy waistband

Long inseam
Cons
No drawstring
These simple, stretchy, and lightweight joggers come in 15 color options and a wide range of sizes, from extra-small to XXL. They have a wide elastic waistband that's not overly constrictive around the stomach and comfortable side pockets for storage.
Rave Review: "These are my favorite—I had to buy them in another color. They are thin and breathable without being sheer and [I don't have to] worry about them tearing. They are well-made and I don't have to worry about chaffing wearing away any material."
Pros
Made with pockets
Feel soft on the skin
Cons
Customers say joggers are shinier than they appear in photo
These high-waisted joggers feature tons of storage options and are made with a cloud-like soft nylon/spandex material that is super lightweight. There are two deep front pockets, plus a zippered back pocket for more secure stashing.
Rave Review: "These joggers are incredibly comfortable. I wear them to work out or to lounge! They are more like a legging material, stretchy, and soft. They are squat-proof and flattering. Highly recommend!"
3
Best Sweat-Wicking Jogger
Lululemon Align High-Rise Cropped Jogger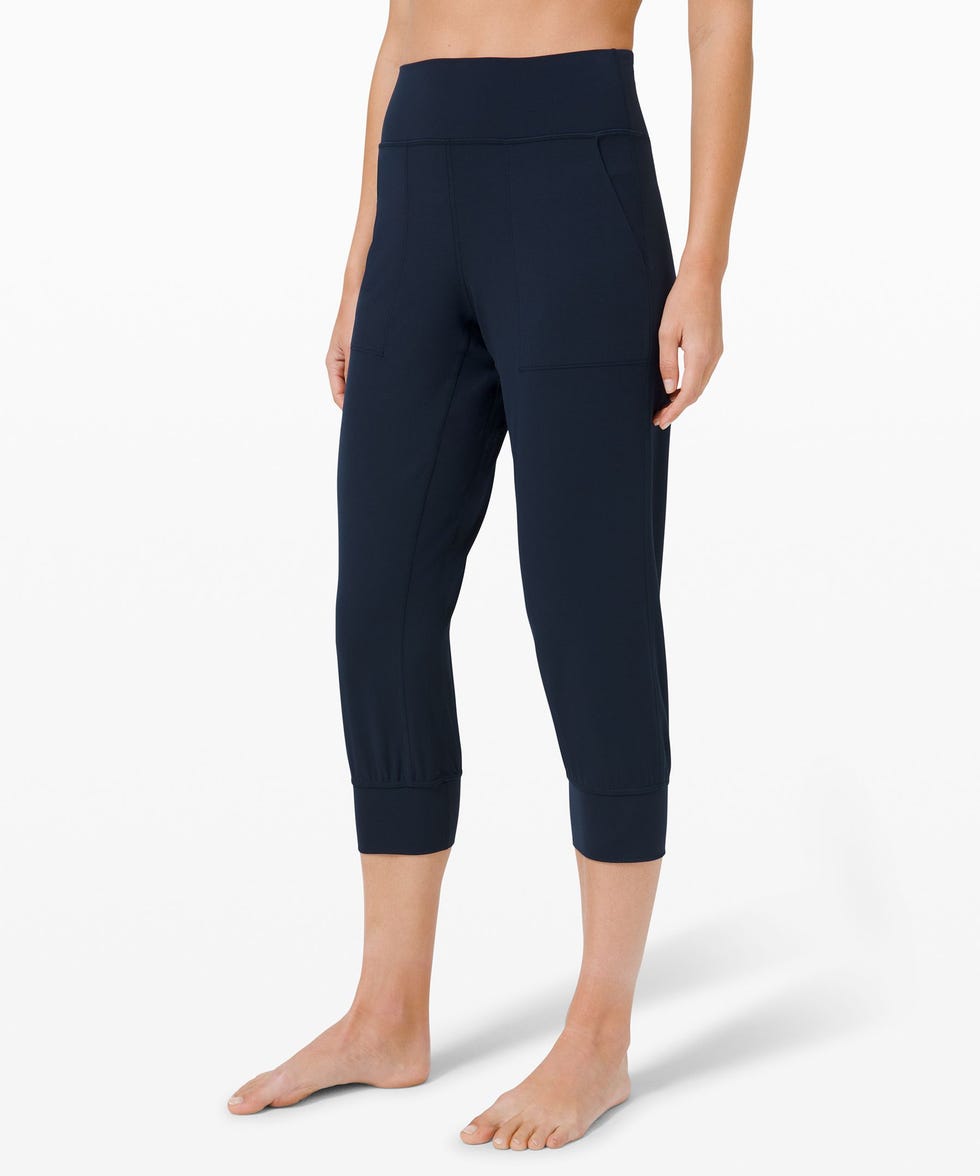 3
Best Sweat-Wicking Jogger
Lululemon Align High-Rise Cropped Jogger
Pros
Moisture-wicking
Stretchy
Cons
On the pricier side
If you've got Lulu's Align leggings in every color, then it's only right you complete your collection with the Align joggers. They boast many of the same features the leggings do—they're moisture-wicking, buttery-soft, stretchy, and breathable.
Rave Review: "These are very comfortable jogger pants. I have them in black and dark camo print. The waistband is high, but it's stretchy and doesn't pinch my stomach. Highly recommend."
Advertisement – Continue Reading Below
4
Best Track-Style Jogger
Eleven Courtside Jogger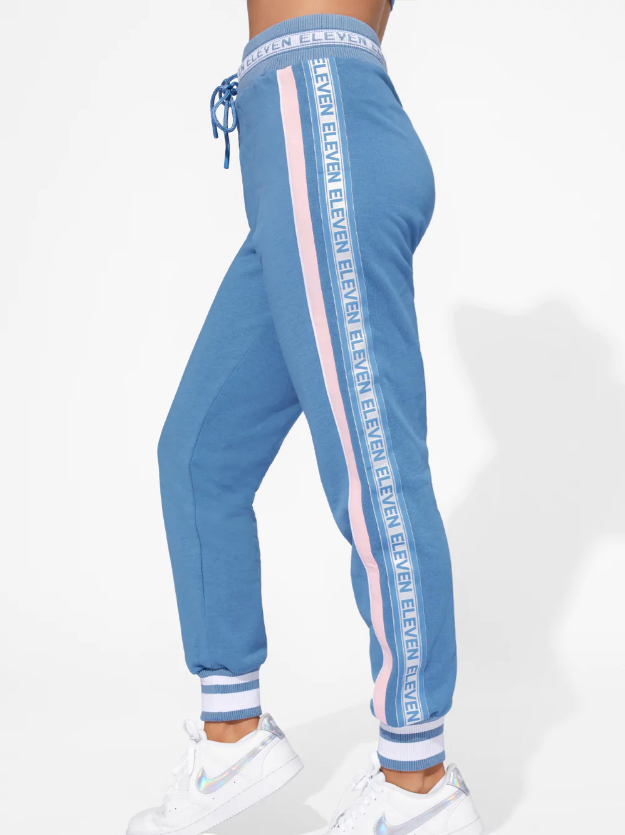 4
Best Track-Style Jogger
Eleven Courtside Jogger
Now 20% Off
Credit: Eleven
Pros
Unique stripe detailing
Drawstring to ensure a perfect fit
Cons
Visible logo detailing if you prefer apparel without labels
This pair has a vintage feel and was wear-tested by brand creator Venus Williams herself for comfort and movement. Wear it when you want to play sports in style.
Rave Review: "These are one of my go-to pairs for traveling," says Jacqueline Andriakos, executive health and fitness director at WH. "The elastic waistband doesn't dig in uncomfortably, and I love that I don't see these everywhere. So unique!"
Pros
Made with fleece to keep you warm
Available in lots of colors
Cons
Not the best option on warmer days
If you prefer a relaxed fit jogger, this pair from Amazon Essentials has the perfect amount of roomy give. They're lined with fleece to keep you extra warm.
They also have serious range in color. There are a whopping 31 different shades of the rainbow, so you're bound to find your favorite color (or five to add to your wardrobe).
Rave Review: "Great lounge pants—they're so comfortable. I am 5-foot-2, 125 pounds, and I usually wear a small. I got a size small in these pants. I easily could have gone to extra small without them being tight. So, if you want something more flattering, size down. If you want to do nothing but lounge in your comfy pants without a soul in the world seeing you, get your normal size. Either way, they will be comfortable."
6
Best Jogger For Cold Weather Running
Janji Mercury Track Pant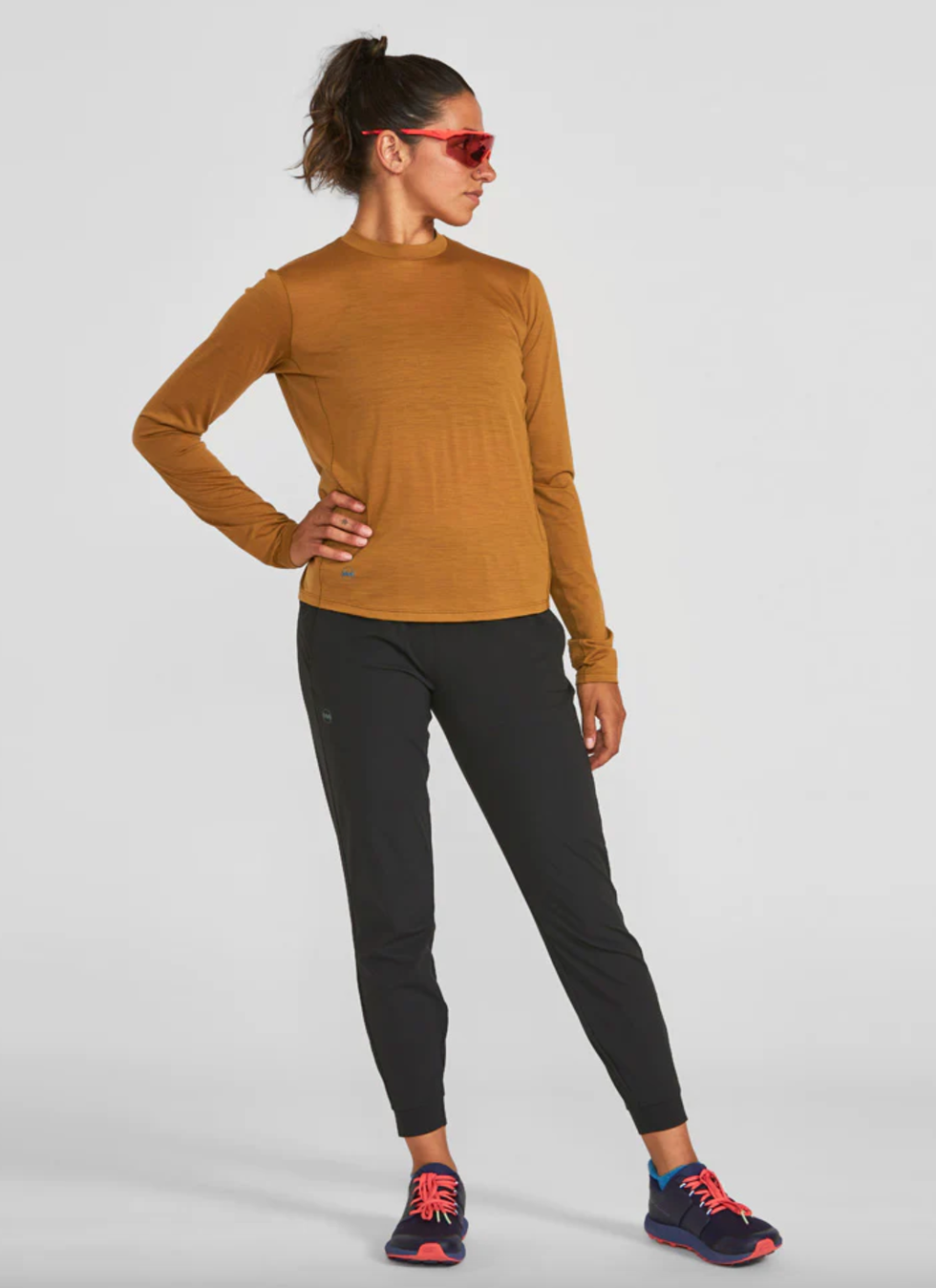 6
Best Jogger For Cold Weather Running
Janji Mercury Track Pant
Credit: Janji
Pros
Wind-breaking material
Zippered back pocket
Cons
May be too warm for some weather
These sturdy and stretchy joggers are built to keep you warm in rain, snow, and just plain cold conditions. They're a must for winter running, as the four-way stretch won't limit your stride length and the great reflective detailing keeps you visible. They also have plenty of pocket space to keep your valuables secure so you can focus on your jog.
Rave Review: "I wear them almost every day. They are great alone or over shorts or long-johns—lightweight, stretchy, and very comfortable."
Advertisement – Continue Reading Below
Pros
Features pockets
Made with sun protection
Cons
Customers say waistband can run a little tight
Al fresco exercisers know the importance of utility in the great outdoors. We're talking rain-proof, windproof, and sun-proof fabrics. Ideally, with some style-factor to them, too—a tall order for sure. This pair of quick-dry joggers is up to the task and checks all the boxes. Plus, they come with a protective UPF 50+ treatment.
The joggers also have tons of storage. (Seriously.) There are five functional pockets, including two side zip pockets, two cargo pockets with hook-and-loop closure, and one back zip pocket.
Rave Review: "With the wide elastic waistband and the tie, these joggers stay put. The zippered pockets allow me to keep my vehicle keys and money secured. The side cargo pockets with velcro closures keep my cellphone safe and clean. Most of all, they are COMFORTABLE and wash up really nice."
8
Most Top-Rated Jogger
Baleaf Cotton Joggers Pant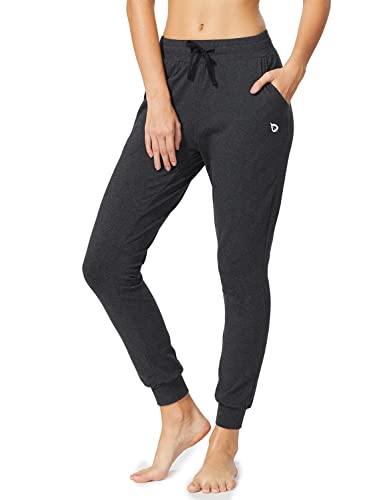 8
Most Top-Rated Jogger
Baleaf Cotton Joggers Pant
Now 48% Off
Pros
Available in fun colors
Sweat-wicking
Cons
Not the best if you're looking for thicker fabric
These cotton joggers have over 18,000 (!) reviews, and a whopping 12,000+ of which are five stars. If you require more convincing, they're cut from a light, sweat-wicking fabric (a mix of cotton and spandex) and come in tons of fun colors, from aqua to marigold. The tapered fit is just right, too, with enough room to avoid the look and feel of leggings. Plus, the elastic waistband and adjustable draw cord let you fix them at any time for a customized fit.
Rave Review: "I thought everyone was exaggerating with all of the amazing reviews. I was wrong. The moment I put these pants on I knew we would be soul mates. So comfy—yet durable—and I don't feel over-exposed wearing them to run errands after yoga."
Pros
Quick-drying
Made with soft and lightweight fabric
Cons
Pricier than other options
These cropped (and super quick-drying thanks to a mix of nylon, polyester, and elastane) joggers are an MVP in the saddle. They come in a pretty plum color or classic black, so you can pick the best shade for you. The straight leg fit is a great option for indoor cycling classes or bike rides due to its minimal bagginess.
"These are my favorite joggers to cycle in because of their amazing sweat-wicking fabric," says Mindy Sartori, instructor for CycleBar GO. "The fabric is soft, lightweight, and doesn't get too loose while working out."
Rave Review: "They fit like a jogger, but with legging material. I was worried they would be thin and unflattering, but they are amazing! The quality is great and the style perfect! I ordered the black right after I received them."
Advertisement – Continue Reading Below
Pros
Four-way stretch
Top-rated on Amazon
Cons
Form-fitting, so not the best option if you want a baggier feel
According to 10,000+ reviews (many of which are paragraph-long raves), these joggers fit very similarly to leggings with a high-rise waist that smooths and supports. The fabric is a mix of polyamide and spandex, which has four-way stretch and a super soft feel. A note: If your ideal fit is slouchy, many reviewers suggest sizing up.
Rave Review: "I must say these are the MOST comfortable pants—so stretchy, but hold their shape. They're so much more affordable than other popular name brands. I own both Viori and Lululemon and these are very comparable. The pockets are deep so phone and keys don't fall out when you sit down."
Pros
Buttery-soft
Made with recycled materials
Cons
Recommended not to iron them
These joggers are a cult-favorite for a reason. The pants are made with Vuori's DreamKnit fabric, which makes you legit feel like you're wrapped in a cloud. These particular joggers, designed for movement, are also built with a relaxed fit, a tapered leg, and a cuff that sits above the ankle.
Rave Review: "I love the performance joggers!! I bought my first pair a couple of years ago and still wear them! I had to buy another pair—soft and so comfortable. The shape has held up great."
12
Best Jogger With A Cozy Feel
The Juniper Jogger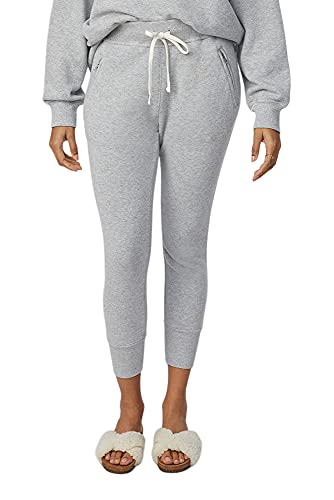 12
Best Jogger With A Cozy Feel
The Juniper Jogger
Pros
Perfect for breezy days
Designed with three pockets
Cons
Not the best on warmer days
These 100 percent terry cotton joggers hit that sweet spot of warm-but-not-suffocating bottoms that you can throw on in the morning or on balmy days when there's a breeze. This pair from Bandier's collab with Sincerely Jules is cute, but they also have great storage— two front and one rear zipper pocket to keep your stuff safe. One thing to keep in mind is that some shoppers noted that they are a bit short.
Rave Review: "So comfy and stylish—I always get compliments!"
Advertisement – Continue Reading Below
Pros
Very stretchy
Top-rated on Amazon
Cons
Not a great option if you prefer something looser
These joggers have nearly 83,000 reviews on Amazon, and are a bestseller. They're made of a super stretchy polyester and spandex blend, so they're a great option to throw on for a stretch sesh.
Plus, they have an elasticized waistband with an adjustable drawstring, so you can fix them to fit your waist perfectly. The brand also notes that the pockets are large, so if you prefer to store your phone and/or keys in them, there is plenty of room.
Rave Review: "These are, by far, the most soft and comfortable leggings I've ever worn!!!! AND they have POCKETS!! So far, they also seem to be durable with constant wearing and washing!!"
Pros
High-waisted
Multiple pockets
Cons
Limited color options
These slouchy joggers from Alo Yoga have a passionate fan following. The soft brushed rib material is ultra stretchy, so the pants hang well on any frame. The drawstring waistband also holds everything in place without sacrificing comfort.
Rave review: "I love love love these pants! I have them in all your colors. The quality is top-notch and comfy!"
Pros
Stretchy waistband
Budget-friendly
Cons
Should be hand-washed
These cropped joggers are made of comfy functional polyamide and spandex fabric that makes it a little more bearable to get through long lines and TSA checks while you travel. They have a stretchy waistband and drawstring, so they are super comfy for extended sit time on the road or in the air.
The joggers come in two lengths, 25 or 27 inches, so you can choose just how "cropped" you want them. There are also nine cool-toned colors to choose from.
Rave Review: "If you're looking for a mainstream dupe, these are it…I've been looking for a cute pair of what I call travel athleisure pants for quite some time, but didn't want to pay the astronomical price they normally are. The stitching on these is on point and the material is quite stretchy and lightweight. I'm seriously in love already."
Advertisement – Continue Reading Below
16
Best Retro Look
Tracksmith Trackhouse Sweatpants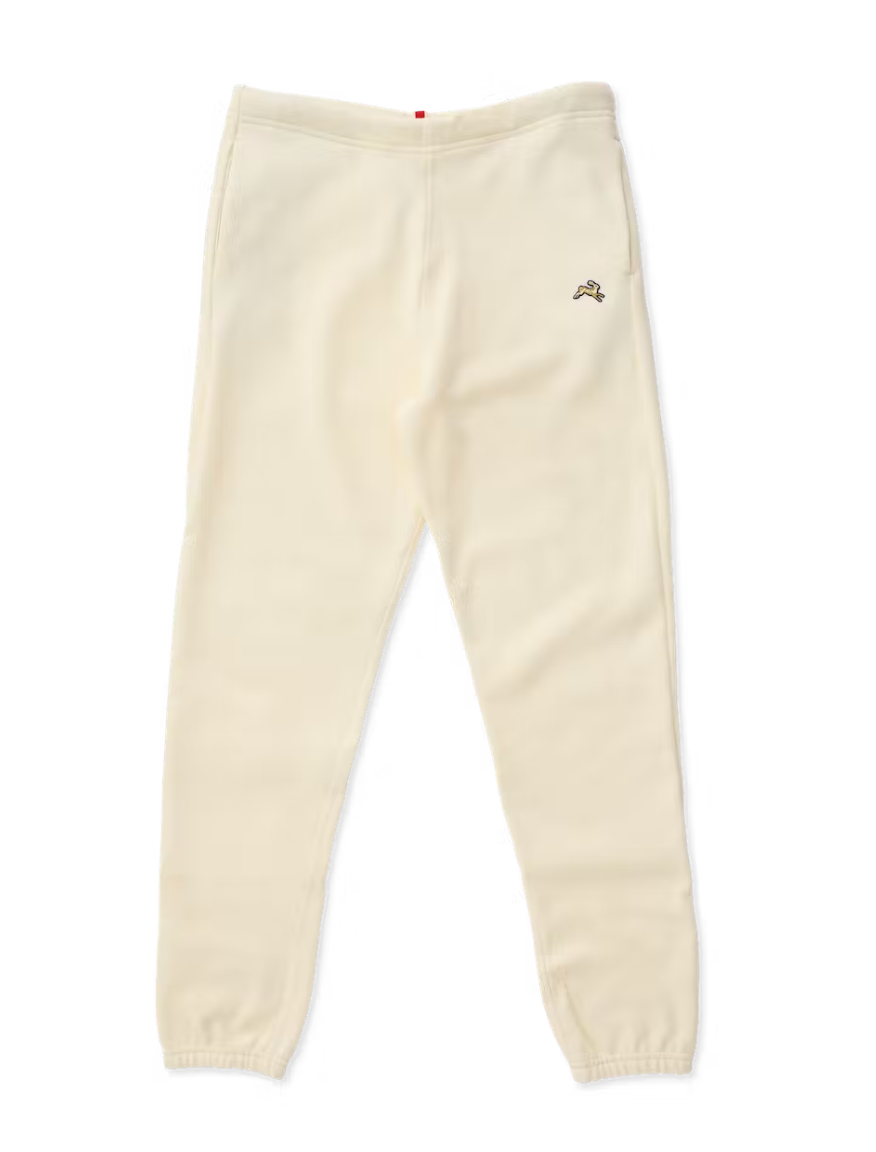 16
Best Retro Look
Tracksmith Trackhouse Sweatpants
Credit: Tracksmith
Pros
Heavyweight cotton
Side and back pockets
Cons
May be too warm for hot weather
These cute retro-looking sweats have all the coziness of your favorite team-issued joggers from your softball days with a few key elevated features. Most importantly, the pants have pockets on the hips and back. They're also made from a highly durable and incredibly comfortable cotton blend that resists pilling, even though you'll be living in these. The cinched ankles offer a relaxed look, and the pants come in five classic color options.
Rave Review: There aren't any reviews on the site, but these joggers are an editor-approved pick for their high-quality construction and comfiness.
Pros
Designed to be warm
Perfect for lounging
Cons
Not the best option for taller people
Okay, these technically fall into the sweatpant category, but they're nipped in at the ankle like joggers and wildly comfortable. The design stands out whether you slip them on over biker shorts or leggings when you need a warmer layer, or live your best lounge life by pairing them with a crop top and sweatshirt.
The fabric is a mix of cotton and polyester, and they have a drawstring so you can tighten and loosen as needed.
Rave Review: "These are great joggers/sweatpants. They are fleece-lined. If you're tall, these will be short on you. I'm 5-foot-4 and they were a perfect length. The waistline was perfect…I love the way they fit."
18
Best Baggy Joggers
Nike Phoenix Fleece Sweatpants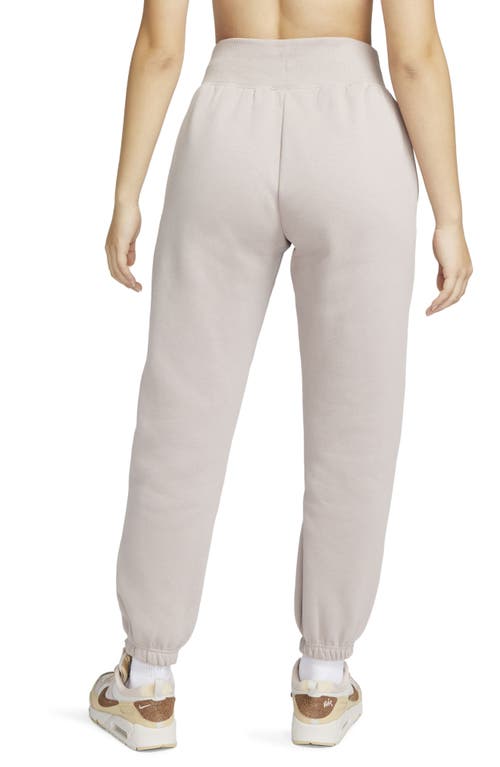 18
Best Baggy Joggers
Nike Phoenix Fleece Sweatpants
Pros
Warm, so they're perfect for colder days
Roomy
Cons
Not for those who prefer something form-fitting
If you prefer skipping out on form-fitting joggers and going for a sportier look instead, these joggers from Nike are it. They're soft and slouchy, and perfect for getting winter laps in or spending the day watching tv—you choose.
Rave Review: "I have three pairs of these. I live in them. Every time I go out I get outfit compliments. They look cute and trendy and are really comfortable."
Advertisement – Continue Reading Below
Pros
Mesh detailing for a stylish look
Lightweight
Cons
On the pricier side
These lightweight leggings from Alala are designed to hug the body. They're made with a soft stretch blend and panels of mesh detailing for an elevated streetwear look.
Rave Review: "I love these because the fit is great and true to size. The material is so soft and comfortable to wear out or to lounge around the house. The fabric is great for everyday wear."
20
Most Sustainable Jogger
Tentree Tencel Cargo Jogger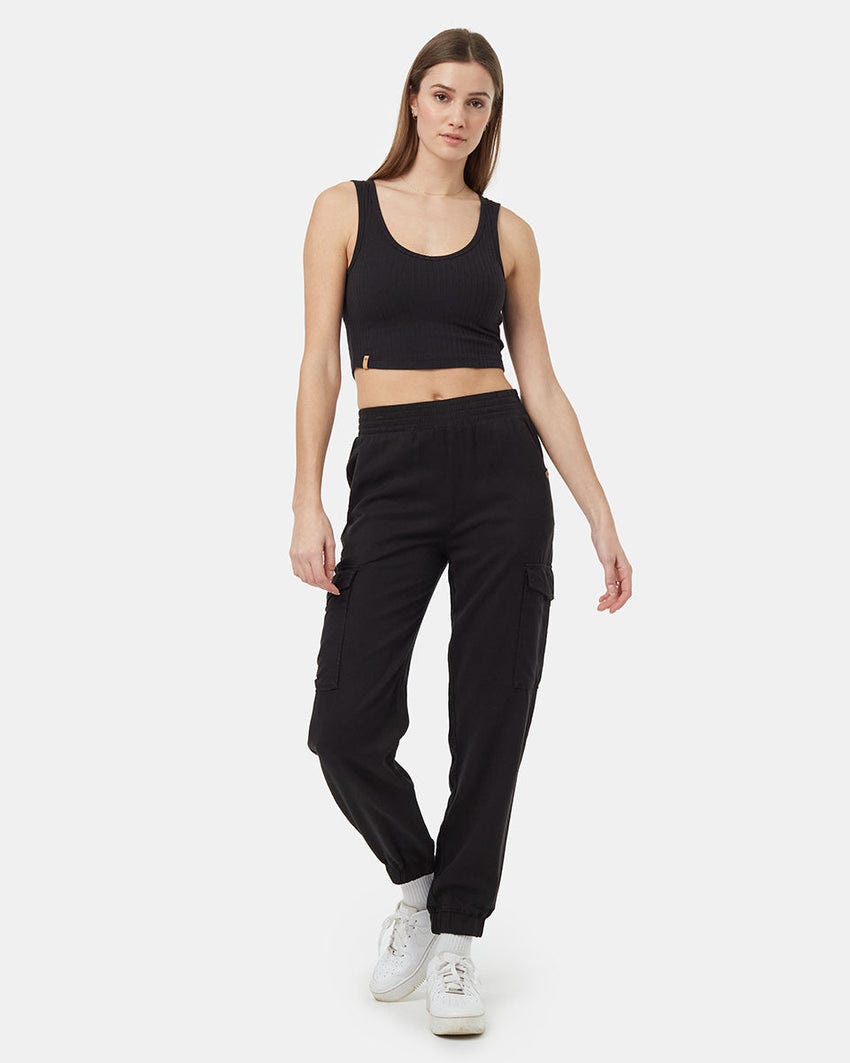 20
Most Sustainable Jogger
Tentree Tencel Cargo Jogger
Pros
Sustainable-packaging
Cargo pockets
Cons
Minimal stretch
It's hard to believe that these heavy-duty sweatpants are made from wood pulp—yay for sustainability. They have a classic gym pant design with the addition of snap-closure cargo pockets on the thighs. They're also designed with cute ankle cuffs and a stretchy waistband.
The pants only come in two colorways, but they're both classics that you can wear on repeat.
Rave Review: This jogger doesn't have reviews yet, but it's editor-approved for its sustainable features.
Commerce Editor
Jasmine Gomez is the Commerce Editor at Women's Health, where she cover the best product recommendations across beauty, health, lifestyle, fitness, and more. When she's not shopping for a living, she enjoys karaoke and dining out more than she cares to admit. Follow her @JazzeGomez.  

Freelance Writer
Lizzy is a trained chef, food writer, and recipe developer for print and digital outlets including Insider, Real Simple, and the Chicago Tribune. She has a culinary degree from Cambridge School of Culinary Arts and a BA from Amherst College. She lives in New York City, where she runs, eats, and explores as much as possible.