It's officially summer, and to celebrate, Lululemon is doing something pretty major on their website RN: Their iconic
Wunder Under High-Rise Tights are taking center stage in the brand's "We Made Too Much" section–and let me be the first to tell you that you simply cannot miss this opportunity. It's high time for a little June treat, one that your legs and wallet will thank you for.
If you're familiar with these leggings, you already know that they are quite possibly the most comfortable pair of athletic wear a person can own. I'd even go so far as to compare them to my favorite pair of gray sweatpants. Trust me, that's saying a lot.
Currently, Lulu has the leggings in the "We Made Too Much" section, bringing the item's initial price down by up to 40% on some designs. Originally priced at $118 and $98 (depending on color), you can currently snag a pair of Wunder Under leggings for just $59. Some colors are also offered for $79 and $69, which is still a steal compared to their normal price. IDK about you, but I am already reaching for my credit card…
Lululemon leggings have something for everyone. Even J. Lo has rocked some of their most wild styles. They come in 17 (!!) different colors and designs, including pastel blue, orange soda, creamy mint, and chambray. Whatever your vibe is, there is a Wunder Under for you. Or, you could follow my lead and try out one of each…just an idea!
The Wunder Under High-Rise tights are designed for training, according to Lululemon's website. So, you could take your tights to a sweaty hot yoga class or get your lunges in during a HIIT workout.
The Everlux™ fabric is breathable, stretchy, and soft, making these leggings a staple in your workout wardrobe. They also have a draw cord, so you're not awkwardly pulling up your leggings everywhere you go.
Finally, the tights are equipped with a waistband pocket for your keys or credit card, making them perfect for everyday summertime wear, too.
All in all, these leggings are beyond comfy, practical, and cute! You're not going to want to pass up this deal. Happy shopping!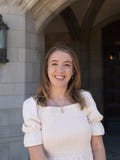 News Editorial Assistant
Olivia Evans (she/her) is an editorial assistant at Women's Health. Her work has previously appeared in The Cut and Teen Vogue. She loves covering topics where culture and wellness intersect. In her free time, she enjoys cooking, running, and watching rom-coms.